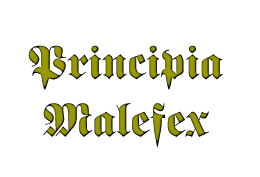 Principia Malefex is a modern horror roleplay game, where the horror comes from within the characters as often as from the world around them. The characters may dream of becoming heroes, fighting their unseen demons, but all they are likely to do is to end up missing the real problems.
To say the game is dark is an understatement but the horror does not come from some insubstantial entity with too many body parts, but instead from inside the mind of the character. Welcome to a world where magic is a rarely seen, yet ever present, threat and the worst of your enemies are human.

The game is listed as suitable for mature gamers only, not because of explicitly horrific details, but because it has large grounding in the real world. There is no bloodfest of nasty creatures to be obliterated, or evils you can fight and destroy. The enemy is never so easy to recognise. There is darkness inherent in the world now, fed by apathy. It is too late to fight it, and impossible to ally with it. And you can't give up now. That's what everybody wants you to do.